A Kit for >Critic Contributors
To Our Beloved Authors...
>Critic is an innovative scholarly journal which covers a wide range of interesting topics, from literary translation to audiovisual and multimedia translation through language technologies, translator training, conference and community interpreting, and intercultural communication. The journal is interested in anything related to languages, translation, culture, and multilingual communication. Published annually, it includes articles and book reviews spanning through the whole translation studies spectrum.
We welcome full length articles (between 5,000 and 7,500 words, including references, author bio, footnotes) and reviews (800-1,000 words). Contributions written in English, French, or Spanish, referencing the editorial guidelines below.
Each contribution should be sent as an email attachment in the Word format (.docx or .doc) named using the author's names (e.g. John-doe-article.docx) and should include:
The author's full names, academic affiliation and email address.
An abstract in at least two languages (the author's mother tongue and English or French).
Five keywords separated with commas.
A short biography (up to 150 words) in either English or French.
The whole article should be written using single-spaced paragraphs, following the template available here. This package contains a Word template designed to make the whole drafting process easy. Just unzip the folder, double-click the Word file and start writing your article.
At >Critic, we follow the style guidelines provided by the American Psychological Association (APA) in the 7th edition of their Manual. If you want to read more on how to cite any type of work, click here.
You should focus your energy on developing your big ideas. There are many utilities available on the Internet, which help you format your citations and manage your references. If you are not yet using them, consider trying Zotero or Mendeley.
If you have any issues or need further assistance, kindly email the journal editors: [email protected]uctologie.org.
>Critic Journal - The Team
Editorial Committee
 Advisory Board
Key Data
Periodicity: 1 Issue per Year
Peer Review: Yes (Double Blind)
Article Processing Fees (APC): No
Access: Hybrid
Format: Print & Online
ISSN 2707-8531 (Print)
Need a PDF Version of this page?
Click the button below.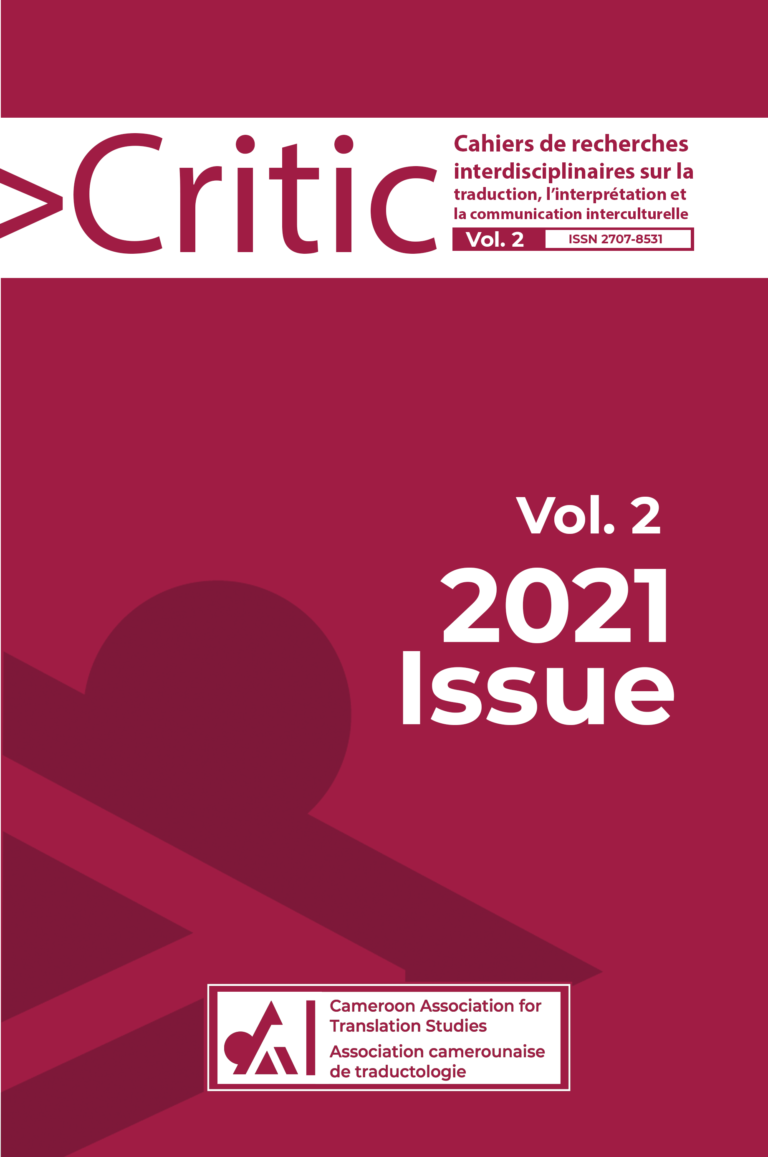 Current Issue - >Critic 2/2021
This 2021 issue of >Critic is a rich and eclectic collection, with contributions in English, French and Spanish. Topics covered include neural machine translation (NMT), ergonomics in the language industry, literary and legal translation, drama translation, as well as epistemology, and functionalist approaches to translation studies.
Contributors: Oumarou Mal Mazou, Jean-François Allain, María Isabel Rivas Ginel, Marie-Évelyne Le Poder, Amal Arrame, Bérengère Denizeau, Edmond Kembou, Micol Bez & Angelo Vannini, Caroline Richard, Alina Kornienko, and Carlos Djomo.